What great entries we had this past week for our Easter challenge!
Are y'all ready for a new challenge?! We have a great challenge for y'all this week!
Make it SPARKLE!
What fun there is to be had with this challenge!! As soon as I found
out the challenge, my card came straight to mind! I have some
black glitter ribbon and some shiny hot pink ribbon that I just love!
After thinking of the colors I immediately looked to see if I had any shiny
pink and black zebra print paper and sure enough! One sheet left!
Our sponsor of the week: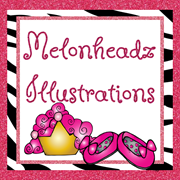 one image bundle of their choosing!
Nikki over at Melonheadz has so graciously given the DT
some wonderful images for us to use for our cards!
It was so hard for me to pick! I loved all of the images!
I finally decided on the image Bucket Girl. I loved her little pigtails
and thought she had the perfect outfit to color to
match the color scheme I was going with.
My creation:
Supplies:
Paper Studio paper (HL)
Verve clear stamp
Melonheadz bucket girl digi
Versamark ink, glitter black embossing poweder
Glitter black ribbon and shiny pink ribbon from Michaels
pink and diamond stick-on rhinestones
paper flowers and pink button from Michaels
black and white bakers twine
colored pencils and OMS